Antibacterial Room Spray
There's nothing worse than a foul-smelling room, especially if that room is in your house. Nobody likes living in a space that doesn't smell good: on the contrary, people love it when they walk into a home and smell the fragrance of lavender or lemon or the freshness of the ocean.
Cleaning Lady's Antibacterial Room Spray kills malodor-causing germs and bacteria, ensuring you never have to worry about any room in your home smelling foul again. All it takes is a few sprays to get rid of such odors, leaving your room smelling fresh and clean.
Our room spray also comes in six different scents – Lemon, Bamboo, Green Apple, Lavender, Ocean Fresh, and Blue Powder. For a long-lasting relaxing scent for your home, you can't go wrong with our antibacterial room spray.
All-Purpose Cleaner
An all-purpose cleaner is one of the most essential cleaning items you need for your home. Spills, messes, and accidents can happen anywhere and you can't always predict when they're going to happen. When that occurs, you're going to want to have a cleaning spray that can handle nearly anything.
Cleaning Lady's All-Purpose Cleaner removes the most stubborn of grease, dirt, and grime on any surface, leaving these clean, neat, and spot-free. Our cleaner removes dirt, dust, debris, crumbs, and germs from all surfaces and objects, getting anything you need looking fresh and tidy and leaving no residue behind.
Because they're safe to use on a wide variety of surfaces, all-purpose cleaners are an absolute necessity to have in your cleaning supplies. No cleaning supply is complete without it, and if you're looking for the best, our all-purpose cleaner might just be the right fit for you.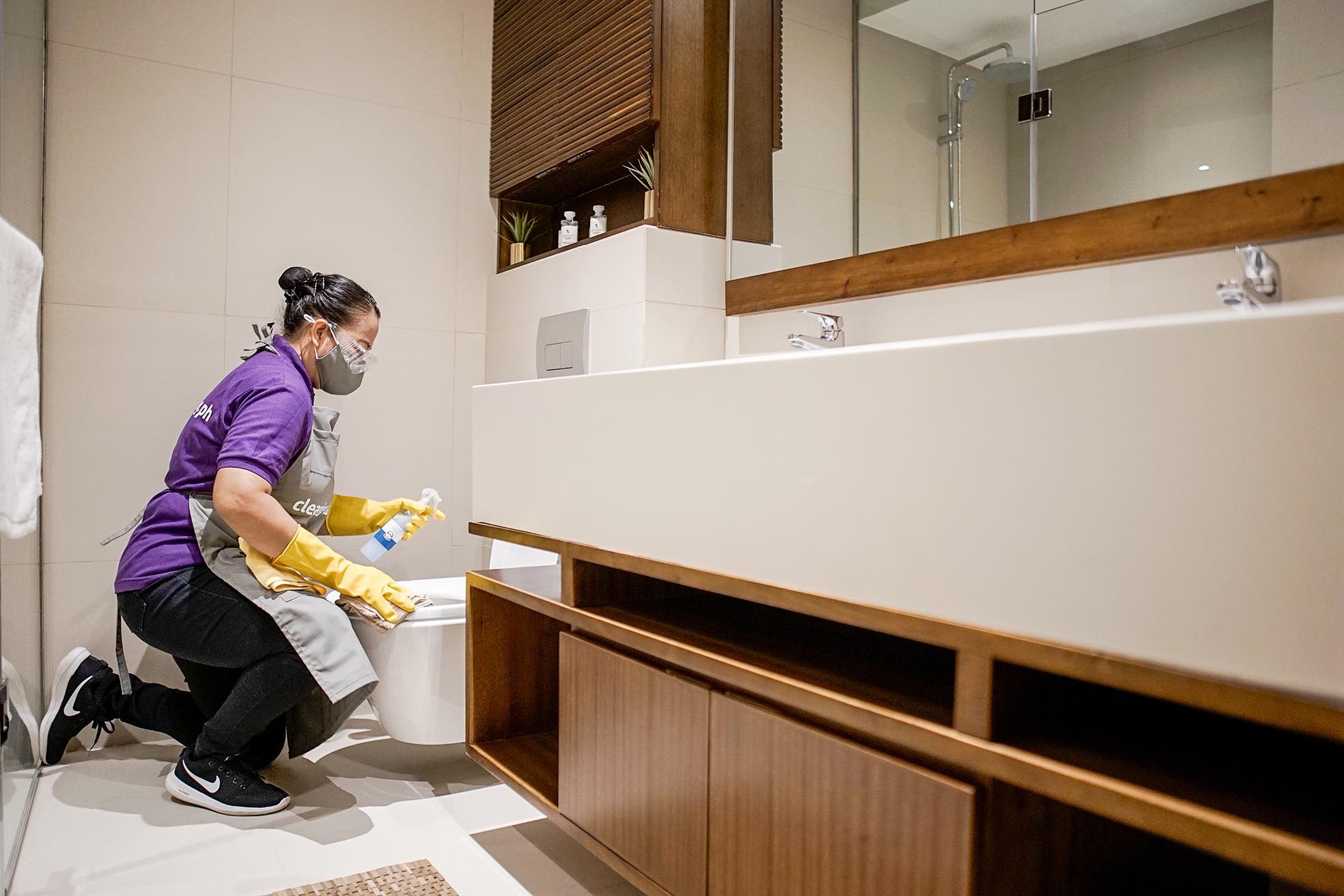 Disinfectant Cleaner
If you live with anyone else, disinfecting surfaces and objects is an absolute must. Just because one of you in the house is sick doesn't mean everyone in the house should be sick, and disinfecting can further lower the risk of spreading infection by killing germs on a surface after cleaning.
Cleaning Lady's Disinfectant Cleaner kills 99.9% of germs, cleaning any surface it touches strongly and effectively. It's tough on germs in your home to ensure your safe haven remains your safe haven and your living space is as secure as possible. It also deodorizes unpleasant odors, getting rid of any foul smells that may be plaguing your home. 
Glass Cleaner
From your windows to your dining table, your house is probably filled with glass, and who could blame you? Glass adds such a sophisticated touch to any room's design. However, glass also gets easily stained especially with liquids, and when that happens, cleaning it up can often be a hassle.
But with Cleaning Lady's Glass Cleaner, cleaning your glass furniture and items is as easy as 1-2-3! Specially designed to remove dirt and water stains from glass surfaces, it'll leave your glass clean and bright. It's fast-drying as well, so you never have to worry about having to wait a long while before you can use the dining table again.
It comes packaged in a neat little spray bottle, too, so all it takes is a few sprays on your glass surfaces, a few wipes, and your glass household items look good as new. Like we said — as easy as counting numbers!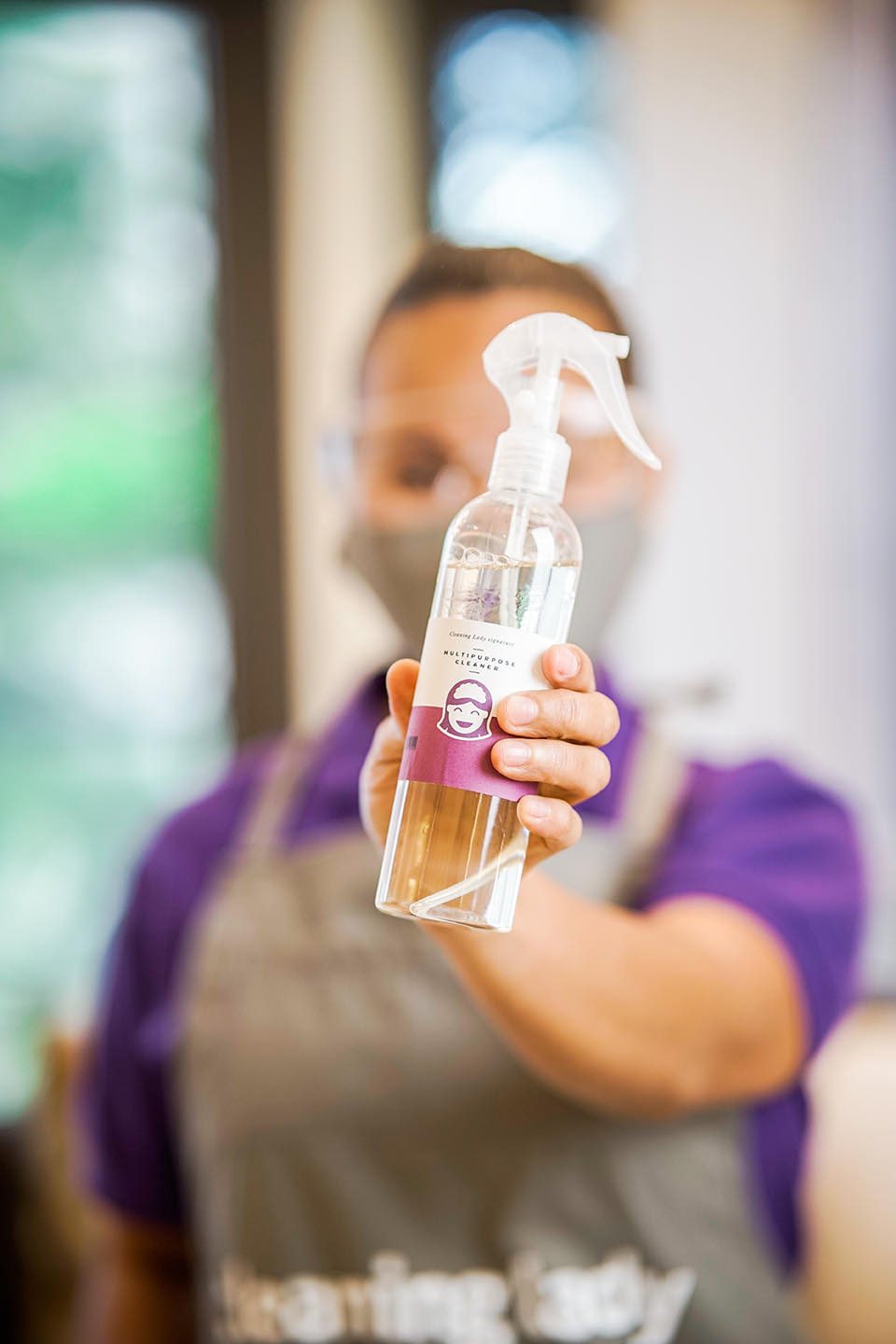 Kitchen Degreaser
This all-purpose degreaser is a must-have for anyone who loves to cook. We all know the worst part of cooking is always the clean-up afterwards — everything from the dishes to the frying pan to the stove needs our attention and the grease and grime can often be the most stubborn things ever.
Luckily, Cleaning Lady's Kitchen Degreaser was specifically designed to be tough on grease and grime no matter where it is. Be it on your plates, your saucepans, your skillets, or your spatulas, you can count on our kitchen degreaser to get the job done, no matter how tough.
This makes cooking more convenient than ever! Now, you don't have to spend hours scrubbing the bottom of that air fryer in order to have it be clean again. If you're someone who loves to cook, our Kitchen Degreaser is a necessity for your kitchen.